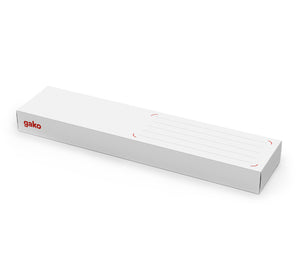 The gako Suppository Single Pack is a specially designed card box created for the purpose of delivering our gako Suppository Strips to patients following the compounding process. This packaging solution not only offers convenience but also serves as a protective measure to prevent any misuse of the preparation by providing a convenient space where application details and compounding specifications can be accurately documented on the packaging itself.


Ensure Proper Delivery and Patient Safety
With the gako Suppository Single Pack, you can ensure a proper and reliable solution for delivering suppositories to patients while prioritizing their well-being and ease of use. This special package is specifically designed to work seamlessly with gako Suppository Strips, providing a secure and organized delivery method.


Advantages of the gako 3-in-1 Suppository Single Pack
Special package designed for delivering suppositories
Prevents misuse of the preparation
Provides convenient space for labeling application details
Suitable for use with gako Suppository Strips
GMP-compliant for quality assurance


Deliver Suppositories with Confidence and Integrity
Order your gako 3-in-1 Suppository Single Pack today and experience the benefits of preserving the compounding integrity and ensuring proper delivery of suppositories to patients. The convenient labeling space allows for accurate documentation, and the packaging itself provides an added layer of protection. Trust gako for reliable and quality suppository delivery solutions.